CT Corp For Small Business Is Easy With JPL Procedure Service
When your small business requires legal documents served to CT Corporation, JPL Process Service is a superior choice for your needs.
Why?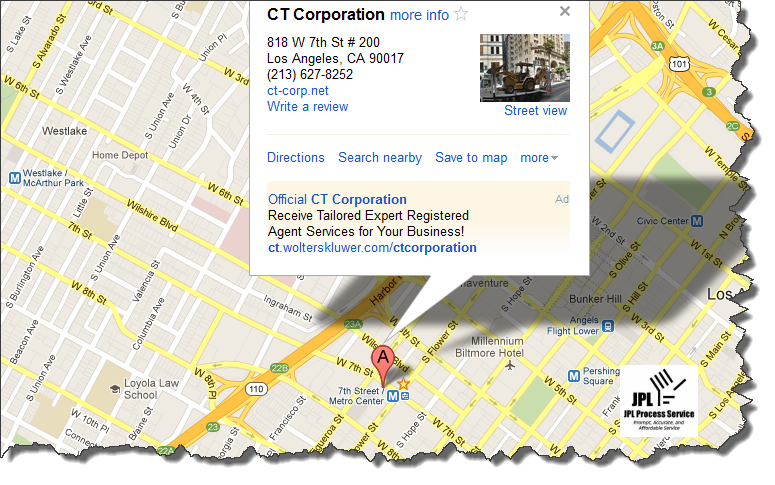 Well, to start with, we have offices just blocks away from Los Angeles CT Corp and make numerous runs each day to 818 W 7th St., #200. Thanks to our nearness and daily schedule, we're able to keep our costs as low as feasible, passing those discounts on to you.
At JPL Process Service, our registered process servers are all qualified, insured and fully trained to effectively deliver your legal documents securely and on time.
In reality, the benefits of utilizing a third-party Registered Agent are many and mainly come down to your exact circumstance, but getting your documents to them, on time and appropriately is half the battle.
CT Corporation is the leading incorporation provider in the country, and have been providing various document preparation and filing services for companies for over 100 years. Just ask your attorney about CT Corp and they will certainly know all about them.
They have the greatest legal understanding and experienced personnel for managing your small business document filing needs and are sure to continue supplying excellent service for many years to come.
Whether you're currently using a Registered Agent service like CT Corp, or you're simply getting started, JPL Process Service can make sure you avoid traffic, conserve time and eliminate headaches. If you need your documents delivered the same day, all you need to do is get them to us before noon and your papers will be served that day without a rush charge.
If you can't easily get your small business documentation to us before noon and still require them delivered the same day, JPL Process Service will get that done for you, too, for a small extra charge.? Just fax or email us your documents and we'll do the rest.
Not long ago, you'd establish your account with an account manager or hire an expensive law firm with pricey software to handle communication.
Now you can gain economical access to high quality incorporation services at reduced prices and have an authorized process server handle the back and forth for you.
Easy, right?
To get started, just fill in the form below or call us now at (866) 754-0520 to speak to a certified Orange County process server with no obligation.