Follow these steps to get a process service job in Los Angeles County.
What is a process server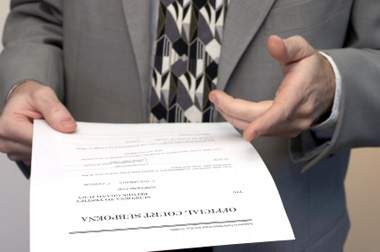 Process servers are hired by law offices, accountants, doctors, and individuals to give legal notice to a person of a court request of the served party to respond to a proceeding before that court. These court documents are known as process and are typically delivered, or served, by a legal process server to ensure safe and timely delivery.
Requirements to Become A Process Server in Los Angeles County
If you plan on serving process more than 10 times a year, you are required to register as a process server in Los Angeles County.
You must be a resident of the State of California for a full year before you register.
You must possess a valid, government-issued picture identification card, such as a driver?s license or passport.
Your place of doing business address must be located in Los Angeles County.
If you're a licensed private investigator, you do not have to register.
You do not need to possess any special education or take any tests; however, you should learn the legal and ethical demands of the profession.
These requirements are subject to change from time to time. Check with the Los Angeles County Registrar-Recorder/County Clerk. You can contact them at (562) 462-2177. You can also reference the California Business and Professions Code u00a722350 and u00a722353 for more information.
How To Become A Legal Process Server In Los Angeles County
Get and complete the process server registration application (pdf) from the Los Angeles County Clerks office.

Do not sign the form until you are in the presence of the Clerk

. The registration fee is $185.00 and includes the recording and filing fee of a one-page bond. An additional $3.00 is charged for each additional page. You will be photographed at the time of your registration and given either a temporary or a permanent identification card.
Get fingerprinted via Live Scan at your local police/sheriff's department. Call the Clerk at (562) 462-2177 to verify which method is acceptable and the closest location for you to be fingerprinted. Fingerprinting fees are minimal, but a background service fee of $56 is required. Click here for the Live Scan application (pdf).
Obtain a $2000 process server bond from an insurance or surety company. This bond is valid for the entire two-year process server registration term and costs approximately $50. The start date of your bond must match the date you register at the Los Angeles County Clerk's office. Be sure to plan accordingly.
Get two passport-sized photos and include them with your application.
Take all your registration materials and your photo I.D. to the Los Angeles County Clerk and pay the registration fee of $185.00. Once everything has been submitted, you'll receive your temporary Process Server Registration Identification card. You'll then receive your permanent card within 60 days.
Appear before the county clerk and deliver the following:
Your registration form
Your Live Scan form
Your process server bond
Your 2 passport photos
All necessary fees
Your valid identification card
Once you've completed all of these steps, email us at info@jplps.com Attn: Jeff Lancaster and we'll provide you with all the information you need to become a process server in Los Angeles County.