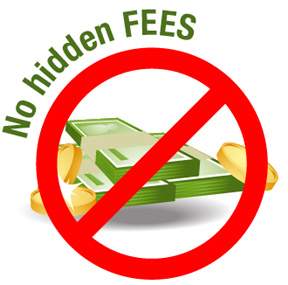 For the most part, process service companies have competitive prices and rely on a number of tactics, including charging for gas mileage and additional delivery attempts, to turn those prices into bigger profit margins.
So while you're looking around for a process server, you're probably going to see similar prices.  But dig a little deeper and you'll begin to see what sets the good process servers from the risky.
To help you avoid getting caught in a situation where you owe more for add-ons and taking chances than you were originally quoted, here are 5 questions you should ask a process service company before giving them your money.
1. What do you charge for gas mileage?
There are about as many mileage schemes as there are process servers.  The most common way process servers build up their fees is by charging for all, most or a specific amount of the gas money used in the delivery of your documents.  In some cases, the first X amount of miles are free and you're responsible for all the gas after that.  Process service companies have also been known to charge up to twice as much for gas as you'd pay at the local gas station.  Find process servers who do not charge for gas mileage or have a clearly- stated, flat fee you are comfortable with.
2. What do you charge for deliveries?
Another common up sell is charging for additional deliveries.  You'd think that paying to have something delivered would include having that thing delivered, but for many process servers, this is not the case.  If the target is not at home, work or the address you supplied when they process server arrives, they will return and try again for a fee.  Sometimes it takes half a dozen attempts to successfully serve someone with paperwork.  Find out how many delivery attempts are included in your fee and how much is charged for each additional delivery.
3. What do you charge for database queries?
Tracking down a target for delivery isn't always cut and dry.  For any number of reasons, a target may not want to be found, has outdated information or is simply on an irregular schedule.  In these cases, process service companies use database queries of the DMV, tax bureaus and others to secure the most recent data possible.  Unless you're completely positive the contact information you supply about your target is up-to-date and accurate, ask how much you'll be charged for these database queries.
4. What do you charge for mailings?
Sometimes a target is located, but they are out of the county, state or even the country.  In these cases, process servers will drive to them when possible, and attempt to deliver the documents through the mail (either to the target or to a local process server) if not.  Depending on what needs to be mailed and how far, these fees can really start to add up.  Work with process servers who go the extra mile to complete their deliveries and don't charge you for doing it.
5. What do you charge for proof of delivery?
Do you really think you should be charged for proof of delivery?  Unfortunately, a high percentage of process service companies actually charge you for an affidavit of service.  Look for process servers who stand behind their work and proudly provide you with proof of their completed delivery.
In addition to these add-ons, process servers can cost you even more money in the long run by not following California and federal laws governing the process service industry.  Using an uninsured process server could put you in legal jeopardy and make you liable for any damages they've caused and using an unlicensed process server could make your court order invalid.
All process servers should be licensed and insured and include most or all of the above items in their fee, but it's up to you to make sure.
Avoid hidden fees.  Ask these questions and pay only what you are quoted